Hoosier Abortion Fund? WE ARE!
Are you a Hoosier who needs help accessing abortion care? Our services are open to all people living in Indiana – your age, income, insurance or immigration status does not matter! All-Options PRC's Hoosier Abortion Fund is here for all Hoosiers!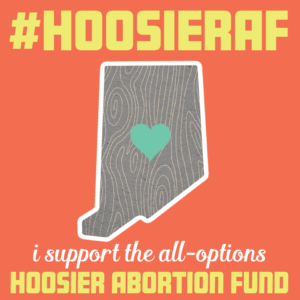 Reach the Hoosier Abortion Fund by calling or texting us at 812-727-4423. Before you call or text, please read through our answers to frequently asked questions below!
If you're not in Indiana and need help accessing abortion care, you can find local abortion fund through the National Network of Abortion Funds.
If you're looking for opportunities to support the Hoosier Abortion Fund, you can join our email list or make a donation.
Answers to Frequently Asked Questions
What is the Hoosier Abortion Fund?
Getting an abortion in Indiana is difficult – and thanks to our lawmakers, it's not getting any easier. That's why we started the first statewide community-based abortion fund in Indiana. We can help you pay for medical care, transportation, child care, and other expenses related to obtaining an abortion.
How does the Hoosier Abortion Fund work?
The first step is to contact a clinic to make an appointment. Then call or text us at 812-727-4423. When you contact the clinic to make an appointment, make sure to ask them about any additional financial assistance they may offer.
Due to limited funding capacity we are not able to provide assistance to everyone. We currently prioritize people who are at least 10 weeks pregnant, due to Indiana's restricted access to abortion care after the first trimester. 
Note: If you are a minor (not yet 18 years old) seeking abortion funding assistance, we can support you! If you aren't sure about telling a parent or guardian, check out the Indiana Judicial Bypass Project or call us at (314) 476-6917.
When you call us, be prepared to leave a message with the following details:
your first name

telephone number where we can reach you

your appointment date

how many weeks pregnant you are

best times to reach you

whether it is OK for us to leave you a message

any phone safety concerns you have
You can expect to hear from us 1-2 business days after you call or text us.
How much does abortion cost?
Depending on the clinic and method, a first trimester abortion in Indiana typically costs between $500-$945. Due to Indiana's restrictive abortion laws, abortion procedures done after the first trimester of pregnancy must be performed in a hospital or licensed surgical center. This unnecessarily increases the costs and often means that you must travel out of state.
Abortion Care Network: network of independent abortion providers
National Abortion Federation: the NAF website offers maps that allow you to highlight clinics in your area while the NAF Hotline referral line 1-877-257-0012 provides referrals to member clinics in the U.S. and Canada (no funding assistance on this line)
Planned Parenthood (look for clinics that list 'abortion services' among the services they offer)
Want to know more about aspiration and medication abortion?
Abortion: Which Method Is Right For Me?: Provides information for people choosing between medication and aspiration abortion.
Additional financial assistance for appointments at non-Planned Parenthood clinics can be found by contacting the National Abortion Federation at 1-800-772-9100. The hotline is open weekdays 7a. – 11p ET and Sat – Sun 9a-9p. Due to lack of funding support across the country the line is often busy. You will need to continue to call until you reach someone. The best times to call are after 5pm and on the weekends.
Note: the National Abortion Federation does not offer financial assistance to people who are having abortions procedures at Planned Parenthood Health Centers. If you are seeking abortion care at Planned Parenthood Health Centers, ask the clinic representative if you can be screened for financial assistance. They will ask you a few questions to determine if you are eligible to receive clinic assistance.
Got Feelings?
All-Options' national Talkline offers a free and confidential space to talk about every pregnancy and parenting turning point, including abortion, adoption, infertility, and pregnancy loss. Trained peer counselors offer judgment-free support at any point in your process, no matter which options you are considering, what decisions you have already made, or how you are feeling about it all.
The All-Options Talkline is open M – F 10a-1a ET, Sat – Sun 10a-6p, rain or shine, 365 days a year! Call 1-888-493-0092 for open-hearted support.
Looking to connect with others who've had an abortion?
We Testify 

provides a collection of abortion experiences, particularly those of color, those from rural and conservative communities, those who are queer identified, those with varying abilities and citizenship statuses, and those who needed support when navigating barriers while accessing abortion care.

The Abortion Diary Podcast is a collection of abortion stories, recorded as podcasts and told by the person who had the abortion in their own words. Listen to stories or share your own!
Project Voice hopes to establish a resource of sharing and support, and convey that abortion is a choice many women have made, and continue to make, for a variety of reasons.
The 1 in 3 campaign is a grassroots movement to start a new conversation about abortion — telling our stories, on our own terms.
Ending a Wanted Pregnancy offers support for parents ending a pregnancy after prenatal or maternal medical diagnosis.