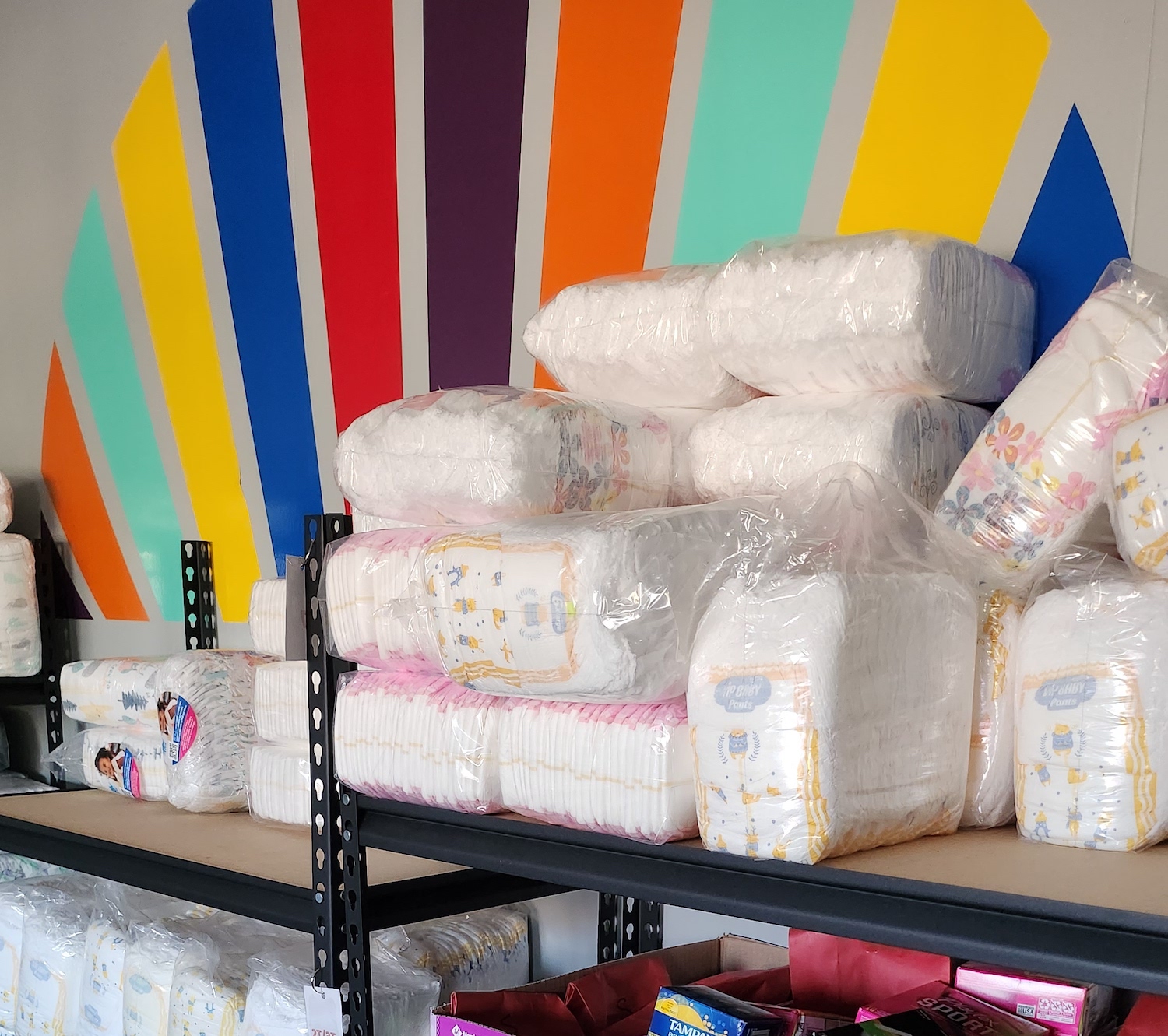 Are you a Hoosier in need of diapers, period supplies, condoms, pregnancy tests, or Plan B (morning-after pill)? While our disposable diaper program is temporarily paused on enrolling new families, we at All-Options in Bloomington are here to help you access resources here in the community. Families residing in Monroe County, Indiana are welcome to request services by filling out our intake form (available in English and Spanish).
Answers to Frequently Asked Questions
How do I apply for diaper assistance?
At this time, we do not have the capacity to enroll new families to receive disposable diapers. If you are interested in using cloth diapers for your little ones, please contact us! We offer a long-term loan of cloth diaper supplies. We understand how hard it can be to find supplies for your little ones, and we will accept new families as soon as our budget allows. In the meantime, we encourage you to get in touch with us, because we may be able to help you find other resources in the community. You can call or text us at 812-558-0089 at any time.
How do I pick up my diapers?
If you are already enrolled in our diaper program, all diaper pick-ups are on Wednesdays between 12pm and 7pm ET. On the scheduled day of your pick-up, please follow these steps to reduce the risk of infection between clients and staff:
When you arrive at 1014 S Walnut Street in Bloomington, please come to the back parking lot behind the building. Ring the video doorbell (at the bottom of the steps) to let us know you're here. We will ask you who you're picking up supplies for. Just let us know the adult's name on the order, and we'll bring your supplies right out to the bottom of the stairs for you.

Please wait in your vehicle or stay in the parking lot, off the back porch and stairs

, while we bring your items out.

 

Please do not try to enter the Center

. We appreciate your help keeping our community healthy and safe!
Do I need to know anything about cloth diapering before I apply for the program?
Cloth diapers are a commitment and require special care, so it is recommended that you do some research before getting started. However, if it is difficult to access information about cloth diapering, we will be happy to assist you in navigating the different types of diapers, cloth diaper care instructions, and determining which diapers are right for you and your child.
Do I need access to a washing machine in order to borrow cloth diapers?
It is highly recommended that you have regular access to a washing machine to clean your cloth diapers. You will probably have to wash your cloth diapers every 2-3 days. If you do not have regular access to a washing machine, let us know so we can talk through your options.  
Where else can I get diapers?
Monroe County United Ministries
812-339-3429
https://mcum.org/
Mother Hubbard's Cupboard
812-355-6843
https://www.mhcfoodpantry.org/
Pantry 279
812-606-1524
https://pantry279.org/
https://helpingbloomingtonmonroe.findhelp.com/
How can I donate to the Hoosier Diaper Program?
We are currently accepting in-kind diaper donations as long as diapers are completely sealed. (Boxes can be opened.) You can also help us in buying diapers to support the increase in need in our community by making an online financial gift here or purchasing items directly from our Amazon, Target, or Walmart wishlists. We deeply appreciate your generosity!
A portion of the diapers and potty training supplies we provide to Bloomington residents were purchased with funds made possible by grants from the City of Bloomington Community and Family Resources Department (CFRD) and City of Bloomington Common Council Jack Hopkins Social Services Committee. We are grateful for this support!